Cucamonga Service Station Open !
In October of 2014 The Cucamonga Service Station opened in the Inland Empire near the corner of Archibald and Foothill Blvd. (Route 66).
This Route 66 icon is one of the few left on Route 66 in the Inland Empire and it is over 100 years old. It has a new paint job and Richfield signage and sports two beautiful vintage gas pumps.
It is operating as a Route 66 museum and a visitors center. The hours of operation are Thursday through Saturday, 10am to 3pm; Sunday, 12pm to 3pm. Like our museum, it is staffed by volunteers. Their web site can be found here.
Winchell's Donut House sign restored !
The Winchell's Donut House sign which the Route 66 Mother Road Museum donated to the Museum of Neon Art (MONA) of LA in 2005 now stands in Plummer Park in the City of West Hollywood.
Photo submitted by Kevin Hansel shows recent neon addition on one side with a protective cover.
The city of West Hollywood in collaboration with MONA have a wonderful new brochure titled on route 66 lights. It has a history of neon and has a fold out map covering Sunset Blvd, and Santa Monica Blvd. showing where all the different neon signs are located. Each sign has a description and many have full color photos. See www.neonmona.org for map and more information.
Amboy Update !
In 2005, Albert Okura, the founder of the restaurant chain Juan Pollo, purchased the historic town of Amboy. Numerous obstacles have prevented him from realizing his goal of reopening the gas station and its adjacent convenience mart.
However, these obstacles have not prevented Mr. Okura from doing something for the Route 66 travelers who stop at Roy's in Amboy. As of this writing, (December 2007) the restrooms have been re-opened, and they have flush toilets and running water to wash your hands; however, the water is not potable –meaning it's not safe to drink. They also have gas at some pumps.
Vending Machines with snacks and cold drinks are available in front of the Post Office across from Roy's, but there is no other food, lodging or gasoline available in Amboy. Amboy T-shirts are also available for sale in a quasi visitor center inside Roy's lunch counter. Much of Amboy's charm is related to its 1940s and 1950s buildings, and its remote location in the Mojave Desert. This remoteness lends itself to individualism and eccentricity, as the visitor center is not open and staffed on a specific schedule. All we can say is when it is open; it will be during the day—most likely, from mid-morning to late-afternoon, or by chance.
Kelso Depot
now open in the Mojave National Preserve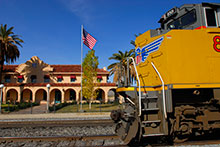 The newly remodeled Kelso Depot is now open as a visitors center for the Mojave National Preserve. The Visitors Center is open every day from 9:00 AM to 5 PM except Christmas. Most of the former dormitory rooms contain exhibits describing various aspects of the surrounding desert. The old baggage room, ticket office, and two dormitory rooms have been historically furnished. An excellent 12-minute film on the preserve is shown in the theater on request. They have restrooms and water. No other facilities are available. The Lunch Room has been restored but no food or beverages are served at this time. There is a gift shop and staffed information from the NPS is on hand.
The Greystone Cafe is Torn down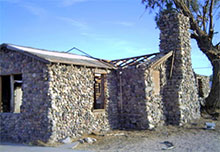 On March 25th 2007 the Greystone Café located at 31317 E. Main in Barstow, CA was torn down. The unique structures were built from river rock in 1918. This was before Route 66 was even named National Trails Highway. The road was dirt at that time. Today this section of road runs parallel to the freeway by the Marine Base. People from the sixties will remember it as a bar. The cabins and main structure are now lost forever and remain only in pictures and memories.
When the Greystone was built it served as a way station for Mormons on their way to the lower LA Basin area. It had a store, overnight rooms and a garage for automobile repair. Horses were still the primary mode of transportation but the number of automobiles was growing fast. The property if for sale through Coldwell Banker.
New wayside exhibit in the Mojave Desert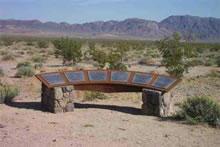 Travelers have noticed that an old rest stop on Route 66 about three miles east of Cadiz Summit has a new exhibit in the making. Thanks to the BLM, the California Route 66 Preservation Foundation, and others the wayside exhibit will be an informative stop to pause and take in the surrounding beauty.
An attractive rock base surrounds the sturdy steel structure. Progress toward completion of the renewed rest stop can be observed west of Danby and Essex, and east of Cadiz Summit and Chambless.
---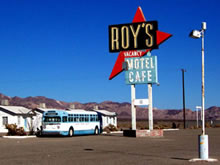 Roy's in Amboy
Amboy is purchased by a new investor!
Albert Okura, the founder of the restaurant chain Juan Pollo. From an article by Jim Steinberg and the San Bernardino Sun on April 12, 2005: The founder of the Juan Pollo restaurant chain has purchased historic Amboy, once a familiar stop for travelers along Route 66. Albert Okura said he'll focus on preservation and, eventually, restoration. "I don't see us making money there,' he said. And there will never be a Juan Pollo restaurant there, he said, because his chain wasn't around in Amboy's heyday in the 1950s. One of the first tasks Okura faces is restoring water to the town. Later, he will renovate restrooms and reopen the gas station and its adjacent convenience mart. "It's going to be hot up there soon, and people are going to need something to drink,' Okura said, adding that he plans to sell gasoline for virtually what it costs to bring it in. "I don't want people to think I'm trying to gouge them and get angry,' Okura said. "Amboy is the centerpiece of the East Mojave. That is where the Twentynine Palms cutoff intersects the old Route 66,' Lundy said. "International visitors are the ones most passionate about Route 66. They love to discover Amboy because they have heard so much about it.'
---
From American Road Magazine - Spring 2005 Issue
Lord of the Rings

Barstow, Calif. - Got a big breadbox? Yes? Then how about adopting this donut? The Route 66 Mother Road Museum of Barstow, CA is seeking a new home for what could be called the Biggest Pastry on Route 66. It's yellow and red, and it could be yours presuming you promise not take a bite out of it. The donut, which measures 11 feet, 8 inches in height and 14 feet, 6 inches in width, once marked the home of the Winchell's Donut House on Foothill Boulevard in Upland, California. It's the chain's oldest sign in the southern part of the state, and it served Winchell's well until the company's lease on the building ended. Preservation-minded management donated the donut to the Route 66 Mother Road Museum in Barstow, which doesn't have room to keep the cake. The sign depicts the original [Winchell's] design, says museum curator Debra Hodkin. The neon did operate until the move and was even scheduled on an upcoming Route 66 Neon Tour in Los Angeles County. The displaced donut was delivered to Soutar's Auto Dealership in Barstow May 3rd of last year. It remains there today, waiting for a call to Debra Hodkin that could lead to a new mom and pop or, perhaps, a really big cup of coffee.
Route 66 Mother Road Museum 681 North First Ave, Barstow, CA. 92311
(760)-255-1890
barstowmuseum@yahoo.com